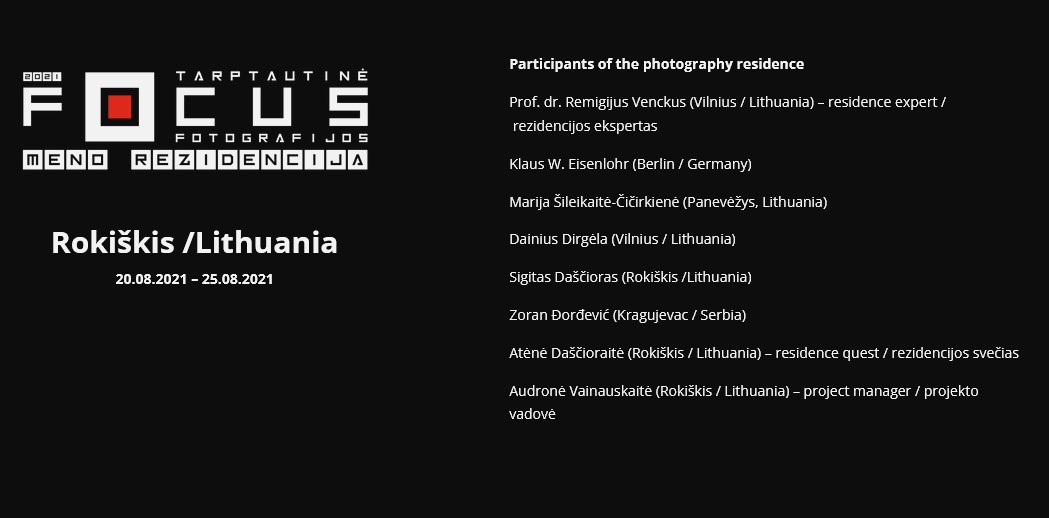 About the Residence / Apie rezidenciją
The international photography art residency "Focus" took place in Rokiškis from 20 to 25 August of 2021. The creative activities of the participants was led by professor of arts Ph. D. Remigijus Venckus from Vilnius Gediminas Technical University (VILNIUS TECH), Faculty of Fundamental Sciences, Department of Graphical Systems. According to the project manager Audronė Vainauskaitė, professor formulated a creative task for art residents. The results done, which are different collections of artistic images prepared by different authors, are presented in a professors curated virtual exhibition on the last day of the residency.
---
The authors of the residency are very different, some of them focusses on photo-documentary, others try to reflect the urban environment, think about place, space and time through documentary form. There are also some authors who usually searching for a new possibilities to apply new media tools. Most of the participants seek to open up unexpected and unpredictable narratives. The abundance of residence activities and the overall creative result, seems to me similar to the collective scientific research. Usually, scientists seeks to know and rationally explain the world while artists seek to disclose own experience and give a new prospects for discussion on reality and the world. However, I strongly could say that we all talk about the same domain, but only in artistic language we always seek to surprise and shock the viewers gaze.
Rezidence expert / Rezidencijos ekspertas
Remigijus Venckus
---
The photo contest theme for the residents selection is composed by the idea that a short stay in another place of the world gives you emotions like you have been living there forever, and on the contrary, you may feel like a stranger in your own hometown. Some kind of déjà vu… Personal experience which is probably familiar to everyone… So, that's exactly what I expected to see in your pictures…
Photographers of different experience have participated in the creative process during the arts-in- residency. This choice of mine, as the project manager, was determined by the desire to present both the position of famous artists, and those who have not fully formed their creative attitudes, yet.
Different opinions, attitudes and views of the artists on the topic assigned by the residency expert determines the relevance of this project – the author's relationship/intersection with creativity, when the town's documentary reflection is replaced by personal experience capturing the moment in photography.
Project manager / Projekto vadovė
Audronė Vainauskaitė
---
http://en.venckus.eu/photoresidence/